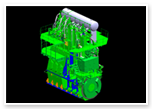 The Diesel Engine Group takes pride in designing Two Stroke Low Speed Marine Diesel Engine. With the parts list and the 2D-CADAM drawings, the group generates the 3D Model using Unigraphics NX5.O software.
Diesel Engine 3D Model is used in preparation for:
Robot Welding
Painting Section
REngine Mass Calculation
Simulation Test
3D Engine Outline for Shipbuilder
Engine Volume
Engine Room Design
3D Data to CAE Analysis
Deployment of 3D Data to Manufacturing, Assembly and Purchasing
3D Data to Code Book and Instruction Manual
Two Stroke Low Speed Marine Diesel Engine has been known for its recognition in MES Japan to have the highest thermal efficiency of all engines and clean natural gas, simultaneously realizing high thermal efficiency and low pollution.