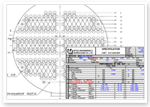 Process Department exercises a discrete technical function for a project and is responsible for the completeness and quality of its own work. All necessary drawings and specifications being prepared are in accordance with engineering standards, practices, taking Owner's, Licensor's and/or other legal requirements into consideration.
Job Scope:
Designing of trays, rating of heat exchangers and on these accounts, preparation of tube layouts and specification sheets.
Hydraulic calculation or fluid flow calculation that embodies line sizing, pump and safety valve calculations
Preparation of Process Flow Diagram (PFD). PFD describes basic design condition of a plant. This is a drawing that concretely shows the flow from the raw materials to the products, link of unit operations, arrangement of equipment, operating conditions, and fluid components and flow rates.
Preparation of Piping and Instrumentation Diagram (P&ID). P&ID is a drawing, based on PFD, which shows the correlations of equipment, piping and instrument for the detailed design, construction, operation and maintenance of a plant. It serves as the basic document to show the scope of work and pro-vides the detailed plant design definition.