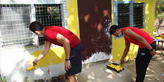 Cadulawan Brigada Eskwela
In th early morning of May 23, 2015, employees were geared up to experience another significant outreach program for the classroom cleaning and beautification of Cadulawan Elemntary School in Minglanilla, Cebu.
Employees were ready to sweat it out and move that extra muscles to contribute to the schools Brigada Eskwela theme which aimed to prepare the school facility for the opening of classes by June.
At the end of the activity, the classrooms were now ready for use and surely students will have the perfect ambiance for a more conducive area for learning.