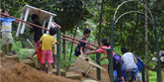 Trek for a cause...Share a chair
2016 outreach recipient was awarded to a school situated in the hills of Minglanilla, Cebu. A 7 kilometer walk in the steep, narrow and uphill road didn't hamper our employees desire to be part of this memorable experience.
A full load of school supplies, books and chairs were brought to the school and were equally shared to all grade school students of Calbasaan Elementary School.
Though the program was limited to a half day event, it was the intangible thing that mattered most --- their smiles said it all.