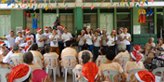 Sweeter the second time around
"It felt like de ja vu."
Last November 21, 2015, our employees once again visited the young hearts at Hospicio de San Jose.
It came much to our surprise that the grandpas and grandmas still remembered the very first encounter we had way back 2007 and that was like 8 years ago.
As they say, "It's sweeter the second time around" and indeed it was. Happiness filled the place, we saw them smile and laugh for every given performance.
Everytime they get to receive visitors, they never wanted them to leave. For obvious reasons, we understood every single word that they said.
At the end of the day, it's not about when and why you left, it's about the friendship that you built and the memories you made.